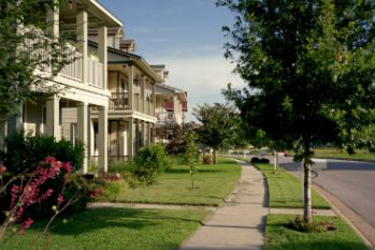 Located just south of Austin in Kyle, Texas, Plum Creek Golf Course anchors the vibrant New Urbanist community of Plum Creek. Developed under the principles of New Urbanism, this self-sufficient village features an abundance of amenities, commercial businesses, and a great school system. Those familiar with Plum Creek Golf Course can imagine that the same thoughtfulness, inspiration and care went into developing this blossoming neighborhood. There are multiple pools that accommodate all ages and activity levels, a 30-acre fishing lake, bike and running trails, and even narrower through roads to accommodate pedestrians.

What's more is that every residence features a porch ostensibly making Plum Creek the rocking chair capital of Texas. Homeowners get to choose from 40 different floor plans from one of three builders - there is a home for everyone, many of which sit adjacent to the 200-acre golf course itself.
Plum Creek is served by a plethora of businesses, including restaurants, shops, cafes, grocers and entertainment. With everything you need essentially in your backyard, errands take minutes instead of hours.

In the spirit of New Urbanism, where nothing essential is far away, Plum Creek is walking distance to Hays Consolidated Independent School District. The school system features a performing arts center located in Plum Creek itself as well as four exemplary schools that teach pre-kindergarten all the way through grade 12. An Austin Community College campus will begin construction in Plum Creek this June.
---
Helpful Links:
For more information about Plum Creek and homes for sale: http://plumcreektx.com/
To learn about activities in Central Texas vist the Go20 website: https://go20tx.wordpress.com/
---
Builders in Plum Creek: