How to Remember Lost Loved Ones On Your Wedding Day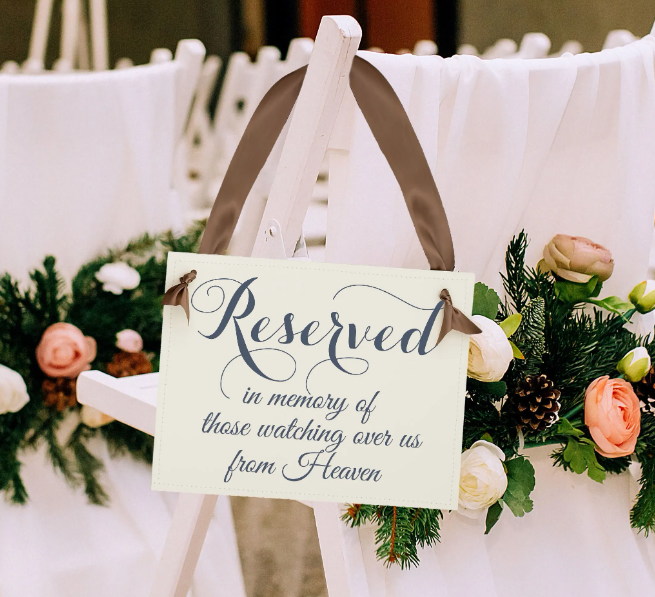 One of the most unforgettable days of your life is your wedding day. It's a moment to rejoice in your love with friends and family. While it is a happy occasion, it may also be sad as you recall loved ones who are no longer with you. If you're looking for ways to remember family or friends who have passed, here are a few suggestions.

Place a Photograph on the Alter or Registry Table
If you're seeking ways to remember loved ones who have passed away, there are numerous considerate things you may do. A photo of your loved one could be presented at the altar or reception. This is a visual technique to keep them present during your ceremony and assures that they are physically present on your wedding day. This could also be a picture from their own wedding day or just a picture they like that shows who they are. When you start your own journey as a married couple, seeing their face will help you feel their presence and remember the legacy they left behind. It will also remind you of how strong your love is and how strong your commitment is. It also allows attendees to commemorate your loved one and spark talks about them and their lives. Choosing a photo of a loved one to show on such an important day is a lovely way to remember them.
Write a Letter
The passing of a loved one is one of the most traumatic situations many of us will ever encounter. While grief and sadness can never be completely overcome, there are methods to commemorate our loved ones' memories and keep their spirit alive. One option is to write them a letter and read it during your wedding ceremony. This is a lovely way to remember and commemorate those who have passed and to keep their love alive in your life. The bride, groom, or a close friend or family member can read the letters. They can be brief and straightforward or lengthy and elaborate. They will be a lovely and unique way to remember your loved ones on your wedding day, regardless of how they are written.
Sew Notes into Your Gown or Handkerchief
You could sew a note into your wedding dress or handkerchief to remember a loved one who has died. This can be a special way to feel close to them on your wedding day. You could tell them how much you love and miss them in a note, or you could share a special memory of them. You can keep them close to you as you start your new life with your spouse by sewing the note into your dress. This can be an old letter they wrote you or their signature sewn into the dress or veil. A beautiful way to remember a loved one who has passed away on your wedding day is to include a note from them.
Meaningful Accessories
Many people also remember their loved ones who have died on this day. Choosing the right accessories to honor your departed loved ones can be a meaningful way to keep their memories alive on your wedding day.
One way to remember a loved one who has passed is to wear their wedding ring. This is a beautiful way to keep their memory close to your heart as you start your own journey of marriage. If you don't have your loved one's wedding ring, you could wear their favorite piece of jewelry or a locket with a picture of them inside. This could also be a necklace, a scarf, or even a tie. By wearing this beautiful item, you will keep your loved one's memories near to your heart on this memorable day. It is also a way to include them in your wedding ceremony and show them that they are still very much a part of your life. You could also put their picture in your bouquet or on your cake.
Choose a Meaningful Escort to Walk You Down the Aisle
If your father can't come to your wedding, you might be wondering who can walk you down the aisle. It's a big decision, and if there aren't any clear options, it can be hard. The most important thing is to pick someone you care about. It could be someone like your mother, uncle, cousin, or soon-to-be-spouse. It could also be a close friend. Whoever you choose, make sure they will be there for you and understand how important the moment is. This is your wedding day, so it should be all about what makes you happy. Don't let anyone force you to make a choice that you don't feel is right. In the end, all that really matters is that you are with the people you love.
Leave Them a Seat
You could also leave an empty seat at the wedding ceremony or at the family dinner table at the reception to remember them. This small act will serve as a reminder that they will always be with you in spirit, even though they are no longer physically present. And every time you look around the room and see the empty chair, you'll think of the person you lost and the good times you had with them.
Light a Candle
A homage to them in your wedding program is another unique suggestion. This might be a simple comment that acknowledges their departure and expresses gratitude for their presence in your life. You may also like to observe a minute of quiet or light a candle in their honor during the ceremony. Whatever you do, remembering those who have parted is a great way to feel their presence on your special day.
Commemorating your loved ones in some special way is one way to ensure they feel involved in your wedding, even if they are no longer with you. We at Plum Creek want to make sure that your loved ones feel like they are a part of your special day. Our San Marcos wedding venue has numerous options for you to do so, ranging from dedicating a page in your wedding program to performing a unique song at the reception. Our professional staff will be delighted to assist you if you are seeking a unique and poignant method to include people who have passed away in your wedding ceremony. We will be delighted to assist you in making your special day even more memorable.
By accepting you will be accessing a service provided by a third-party external to https://www.plumcreekgolf.com/